Der in New York lebende Schlagzeuger Andrew Barker (Barker Trio, Gold Sparkle Band, William Parkers Little Huey Creative Music Orchestra) und der in Amsterdam ansässige Saxophonist John Dikeman (Cactus Truck, Universal Indians mit Joe McPhee) sind auf ihrer zweiten Europatournee unterwegs als Duo, das die Weiten des Free Jazz und der Improvisation auslotet und sich dem Unbekannten und dem Unerwarteten hingibt. Barker und Dikeman feiern damit auch die Veröffentlichung ihrer ersten gemeinsamen Aufnahme "All Things Are Possible".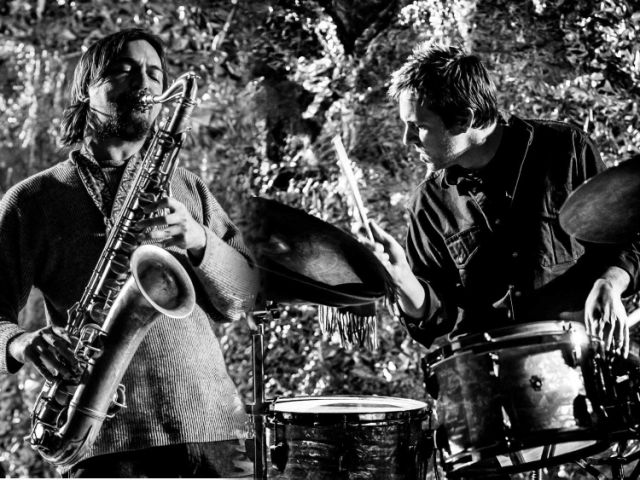 John Dikeman is an American saxophonist currently residing in Amsterdam. Drawing inspiration from a wide range of sources, John's playing runs the gamut of improvised music and technique. John has performed extensively in the Netherlands and USA as well as Canada, Brasil, Russia and throughout Europe and the Middle East.
John grew up in Wyoming and started performing professionally at the age of 16. Dikeman left Wyoming in 1999 to study saxophone and composition at the prestigious Interlochen Arts Academy. John later attended Bennington College in Vermont to study with Milford Graves while at the same time studying privately with the late Joe Maneri. After Bennington, John moved to Boston, then New York City and Philadelphia. While on the east coast John performed extensively with many of the top musicians from the USA including Nate Wooley, Mike Pride, Daniel Carter, Tatsuya Nakatani, etc… In 2004 Dikeman moved to Cairo, Egypt where he worked full time as a professional musician and educator, leading numerous ensembles as well as freelancing in a wide range of settings that included performing as a soloist for the Cairo Symphony Orchestra and being a long term member of the band of Nubian pop star Mohamed Mounir. After Egypt, John moved briefly to Budapest, Hungary, then Paris, France and finally settled in Amsterdam in 2008.
Since moving to Amsterdam, Dikeman has performed with Joe McPhee, Jeb Bishop, Han Bennink, members of The Ex, Roy Campbell, Ab Baars, and many others. John has been very active in the Dutch improvised music scene as both a performer and curator. John was selected for the 2012 Young VIP tour which featured the trio Cactus Truck plus guests on tour throughout the Netherlands. John was invited to join Stichting Doek as a core artistic member in 2012. In the fall of 2012 Cactus Truck completed a 37 concert tour of the USA. Their performance at Zebulon in New York City earned them a place on Andrey Henkin's list of Best Concerts of 2012 for the New York City Jazz Record.
Press quotes:
"He has the most powerful voice in the Dutch jazz music of the last decade: saxophonist John Dikeman." Tim Sprangers, Jazzism.
"The saxophonist… puts fire to the fuse with the Old Testament fury that Charles Gayle displays on his best trio records. More than improvisation or free jazz you hear übergospel: reeling with religious conviction and tortuous dynamism, with roaring pounding in the low register, split tones and a timbre that is almost torn to pieces." Guy Peters, Enola.
Andrew Barker is a drummer and composer living in Brooklyn, NY. Barker is co-founder of the free-jazz and improvised music ensemble Gold Sparkle Band from Atlanta, Georgia from 1994 to present. In his early years in Atlanta, Andrew studied with drum corps virtuoso Glen "Turtle" Carter, and Jack Bell of the Atlanta symphony. Andrew later met and was mentored by the great bassist Sirone (Norris Jones) of The Revolutionary Ensemble, who encouraged Andrew to move to NYC and pursue a life of creative improvised music.
After moving to Brooklyn, NY in 1998, Andrew studied with drummers Andrew Cyrille, Warren Smith, and Randy Peterson. Andrew became the drummer in William Parker's Little Huey Creative Music Orchestra (appearing on Mayor of Punkville, Raincoat in the River, Spontaneous, and For Percy Heath). In 2005, Andrew appeared with the orchestra and Roy Campbell's Pyramid Trio at the Sant'Anna Aressi Festival in Sardinia. Since then he has appeared on many recordings with musicians such as Daniel Carter, Sabir Mateen, Chris Jonas, Rob Brown, Mikko Innanen, Sonny Simmons, Assif Tsahar, Virginia Genta of the Jooklo Duo, Ed Ricart, Roy Campbell, Tara Jane O'Neal, and many others.
Barker has performed with many musicians in New York City and beyond including Butch Morris (appearing on Conduction #117), Thurston Moore, Steve Swell, Herb Robertson, John Zorn, Marshall Allen, Sirone, and Paul Dunmall. Andrew has appeared at various festivals in NYC and beyond, including the Vision Festival, What Is Jazz Festival at the Knitting Factory, and Victoriaville Festival in Canada.
Barker leads the psychedelic free jazz unit "Acid Birds" (with Jaime Fennelly of Mind Over Mirrors and Charles Waters of GSB), and the heavy improv unit, Barker Trio (with Michael Foster and Tim Dahl).
Press quotes:
"Deliriously creative" – The New York Times (July 9th 2009)
"(Barker) delivered a droning, lurching piece which hypnotized and took us on its undulating, churning journey into catatonia." – JG Thirlwell (2013)
"Barker's percussive contribution is a tattered blanket of clatter, shreds of rhythm torn and reassembled afresh. If all that sounds chaotic, it isn't." A Jazz Noise (August, 2016)