am: Donnerstag, den 02. Oktober 2014,
um: 20:00 Uhr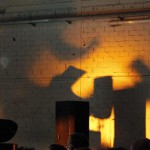 Das Duo Lettow – Erel  baut eine fragile, faszinierende und abstrakte Klangwelt aus Gunnars electo-akustischen Klängen und Korhans elektronisch verabeiteten Fieldrecordings. Seit sie sich zum ersten Mal 2011 in Istanbul getroffen haben, spielen sie regelmäßig in Deutschland. 2014 wird ihre erste CD erscheinen.
Gunnar Lettow erweitert den Klang des E-Basses durch unterschiedliche Präparationen wie z.B. Spieße, Klammern und Pinsel sowie den Einsatz von Effektgeräten. Aktuelle Projekte sind die Duos mit Gary Rouzer (Alexandria, USA) und Korhan Erel (Laptop, Istanbul), sowie mit Robert Klammer (electronics, Hamburg). Er spielt regelmässig in ad-hoc-Besetzungen (u.a. mit Ernesto Rodrigues, Carl-Ludwig Hübsch, Nicolas Wiese, Ofer Bymel). Seit 2010 organisiert die Konzertreihe Frequenzgänge für improvisierte und experimentelle Musik in Hamburg.
Korhan Erel is a computer musician, improviser and sound designer based in Istanbul. He treats the computer as an instrument that can co-exist with conventional instruments in free improvisation. He is a founding member of Islak Köpek, Turkey's pioneer free improvisation group. He performs solo, duo and group concerts in Turkey and Europe. His music covers free improvisation, conceptual sound performances as well as structured and composed pieces. Korhan also does sound design and music for theater, video and dance.
http://gunnarlettow.wordpress.com/projects/duo-erel-lettow/
http://korhanerel.com/projects/lettow-erel/